Announcing the 2022 U.S. Earth Science Team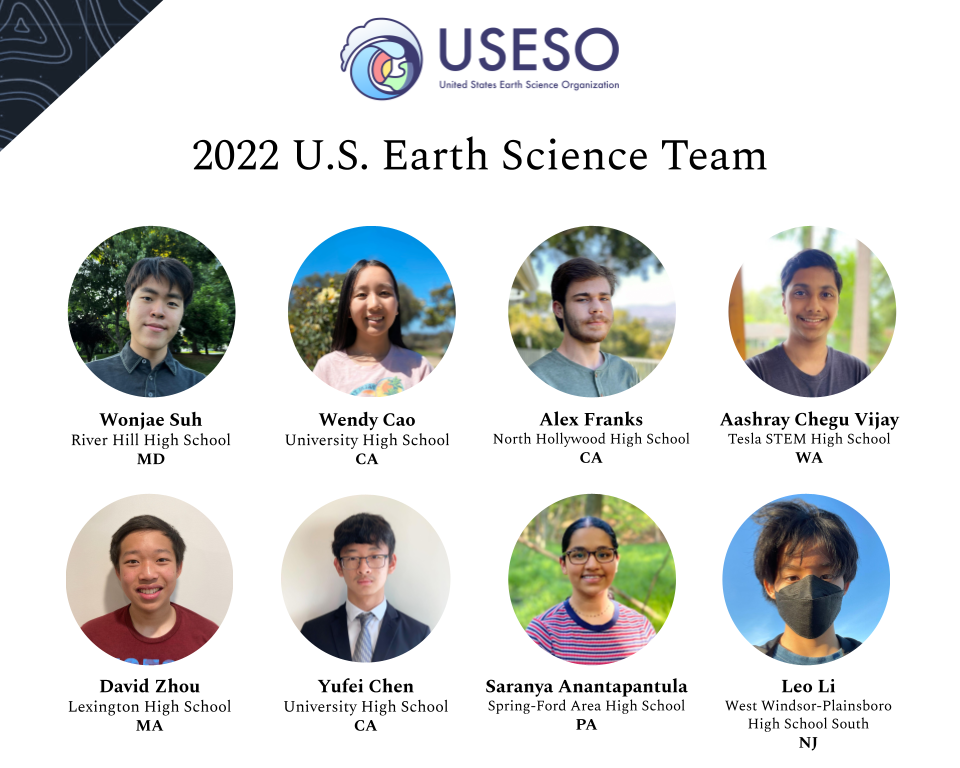 Congratulations to the 2022 U.S. Earth Science Team! The 15th IESO is hosted by Italy in a virtual format.
Congratulations to the 2022 U.S. Earth Science Team! These 8
students
were chosen from the annual USESO Training Camp after a rigorous set of theory and practical exams.
Wonjae Suh – River Hill High School, MD
Wendy Cao – University High School, CA
Alex Franks – North Hollywood High School, CA
Aashray Chegu Vijay – Tesla STEM High School, WA
David Zhou – Lexington High School, MA
Yufei Chen – University High School, CA
Saranya Antapantula – Spring-Ford Area High School, PA
Leo Li – West Windsor-Plainsboro High School South, NJ
These 8 students were selected at the conclusion of the USESO Training Camp, which invites 40 of the most promising high school Earth scientists to participate in a week-long immersive program of exams, guest lectures from environmental industry experts and faculty, and sophisticated team research projects on modern environmental challenges ranging from remote sensing to lithium recycling.
This year's International Earth Science Olympiad will be hosted virtually by Italy from August 24-30, 2022. During this event, the selected 8 will participate remotely in environmental science research and analysis on teams composed of similarly selected students from countries around the world.
Please follow our page for updates regarding future iterations of the U.S. Earth Science Training Camp and IESO (and please spread the word to students you think may be interested)! More info can also be found at our website: useso.org.